Specialized Marketing Agency for Semiconductor Industry Manufacturers and Suppliers
Leveraging over 30 years of experience, RH Blake delivers unparalleled marketing resources for the semiconductor industry. Our distinctive strategies make us the leading marketing agency for semiconductor industry manufacturers and suppliers.
Why Choose RH Blake As Your Marketing Partner for the Semiconductor Industry
At RH Blake, we offer more than marketing expertise. We bring to the table an in-depth understanding of the dynamics of the semiconductor industry. Successful marketing efforts in this field must integrate emerging technologies and smart products that are becoming integral to the trade.
RH Blake is equipped for innovative change.
As a $412 billion global industry, semiconductors play a major role in current and developing technologies. The sensor, microprocessor and memory sectors are all driving new growth opportunities. New advancements in the areas of artificial intelligence, 5G networking, autonomous vehicles and the internet of things (IoT) continue to push semiconductor manufacturers and suppliers to meet increased and varied demands. In short, your buyers are changing, and we know how to change with them – to keep you at the cutting edge of the industry.
RH Blake makes optimal use of your marketing dollars by hitting this moving target. With a majority of engineers looking to online resources for new technologies, new products, "how-to" design information and industry news, RH Blake gets your messaging in front of this audience through engaging content. We realize your audience expects authoritative information they can trust. Your press releases, websites, white papers, articles and case studies must offer accurate, innovative and high-impact information. This is exactly what RH Blake delivers.
RH Blake meets Semiconductor industry challenges.
Essential to these successful efforts is a keen understanding of the challenges of the semiconductor industry. RH Blake knows what you're up against. We appreciate the weight of average sales price erosion. We recognize the need for keeping pace with diverse customer needs. These top industry concerns shape our solutions so your efforts effectively mitigate these challenges.
How? We strengthen your Semiconductor-related marketing and communications.
Semiconductor industry analysts agree that stronger marketing and communications are essential components to overcoming these obstacles. Along with diversification, talent management, joint ventures and implementing disruptive technology, experts rank marketing and communications in the top five strategic priorities for semiconductor manufacturers and suppliers.
A partnership with RH Blake sets this priority and gives your company a strategic edge. We push past industry challenges with campaigns that provide insight and impact.
RH Blake makes you the Semiconductor industry authority.
By partnering with our experts, you bring your brand to the forefront of customer searches. You become the industry's go-to source, so customers come to you when they are ready to invest.
For this to happen, customers must rely on you for accurate information, new ideas and useful direction. Your solutions need to be sharp, and they need to be everywhere your customers look. RH Blake makes that happen. Our full-service marketing covers every aspect of your business to build your brand into a solid position of authority in your market.
RH Blake's comprehensive Semiconductor marketing programs include the following key components:
Marketing Strategy and Consulting – Our proven RH Blake Growth Roadmap™ allows us to create an actionable plan for success. We analyze key aspects of your business and align your marketing campaigns with the most effective strategies for the semiconductor industry.
Channel/Distribution Marketing & Awareness – Our targeted marketing efforts keep pace with increasingly mobile customers who move across channels to get what they want, when they want it. We expand your margins and enhance customer loyalty with highly successful digital campaigns, sales support and videos that reach your audience on the platforms they use the most.
Direct Marketing – RH Blake offers extensive experience at identifying target markets for semiconductor manufacturers and suppliers. Our inbound marketing methods allow you to communicate directly with key members of your prospect base and effectively focus dimensional campaigns to meet specific objectives.
Advertising – Our media programs use the smartest vehicles to reach the semiconductor market in the most cost-effective ways. We develop and execute campaigns that attract, engage and nurture the right buyers for your offering. We differentiate your business to make prospects take notice.
Public Relations & Communications – RH Blake skillfully guides you through complex semiconductor industry issues to tell your story in an engaging and value-driven way. We increase awareness and build your brand through captivating and informative whitepapers, newsletters, social media posts, landing pages and more.
Sales Support Materials & Creative Design –With RH Blake, you get the tools you need to properly showcase your brand and grow your business. We offer solutions based on your desired results and timeframe. From logo development to sales literature of all kinds, our deliverables are always on the mark.
Trade Shows & Events – Our unique insights allow you to utilize these events to create new relationships and enhance existing opportunities in the semiconductor industry. We provide custom booth displays, handouts and videos that make the most of these opportunities and ensure you accomplish your event goals.
Website Development & Online/Mobile Marketing – Using our proven SEO processes, mobile app development and social media programs, RH Blake extends your marketing reach. With responsive, scalable websites, your content will engage prospects and accelerate your sales cycle.
Create A Marketing Partnership for a Powerful Future
You can't afford to partner with a firm that lacks intricate understanding of the semiconductor industry. At RH Blake, we offer three decades of experience and industry-tailored marketing initiatives that fit the needs of your sector. Our full-scope marketing efforts consistently result in brand enhancement and business growth. We are deeply committed to honesty, integrity and value, and apply these qualities to make your business grow faster and smarter.
Sample our services with our Free Bonus Content: 5 Key Steps to Developing a Digital Marketing Roadmap. This download will take the guesswork out of your semiconductor manufacturer and supplier marketing.
Get Started
Are you ready to start a conversation with the leading marketing agency for semiconductor industry manufacturers and suppliers? We'd love to chat. Contact RH Blake today at 216-595-2400 or info@rhblake.com.
Free Download: 5 Key Steps to Developing a Digital Marketing Roadmap
A Must Have Digital Marketing Guide for Semiconductor-Focused Firms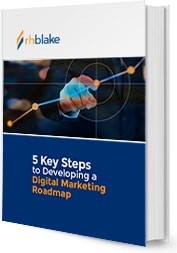 Apply for a Free SEO Footprint™ Assessment on Your Website