Leading Industrial Marketing Agency
RH Blake is the premier industrial marketing agency in Cleveland, OH. We leverage more than three decades of experience to deliver marketing solutions that drive results.
Why Choose RH Blake As Your Industrial Marketing Agency
RH Blake offers a full portfolio of industrial marketing services to cover every facet of this evolving sector. Leveraging unique industrial and manufacturing insights allows us to effectively target your customers and engage them with your brand. Our efforts maximize each marketing dollar to enhance your company and products.
RH Blake's comprehensive industrial marketing in Cleveland, OH includes the following high-impact components: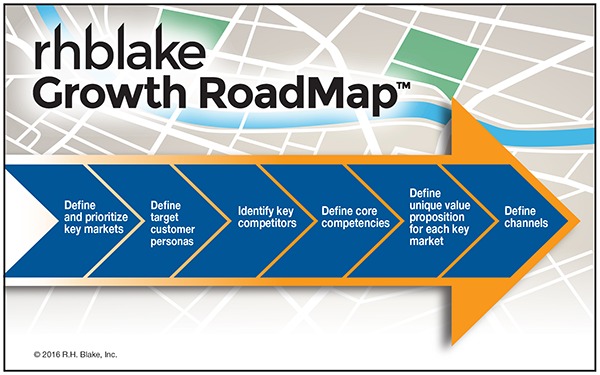 Marketing Strategy & Consulting
Using our proven RH Blake Growth Roadmap™, we analyze key aspects of your business to align your campaigns with the most effective strategies for your industry. Whether you need a product launch strategy or campaign planning, we create an actionable plan for success.
Channel/Distribution Marketing & Awareness
Our targeted campaigns keep pace with increasingly mobile consumers who move across channels to get what they want, when they want it. We apply highly successful marketing programs to expand margins and enhance loyalty. From videos, to sales support, to digital campaigns, RH Blake offers a proven track record of developing, implementing and managing programs with impact.
Direct Marketing
RH Blake knows the value of market segmentation. We are experienced at identifying target markets, locating resources for prospect lists and developing focused campaigns. We develop targeted e-mail or dimensional mail campaigns to meet your specific objectives.
Public Relations & Communications
Our methods navigate complex industrial issues and tell your story in an engaging and value-driven way that builds your brand. Our solutions include product publicity, feature articles, newsletters, social media, blogging and additional solutions to increase awareness and expand your business.
Sales Support Materials & Creative Design
We develop tools based on your desired results and timeframe. From sales literature, to logo development, to training tools and beyond, our experienced design approach gets you the practical solutions you need for effective marketing.
Trade Shows & Events
Our trade show and event expertise allows you to enhance these unique business opportunities. We leverage unique industry insights to deliver custom trade show booth displays, handouts and videos that make the most of these events.
Website Development & Online | Mobile Marketing
RH Blake accelerates your sales through the development of responsive web properties that engages prospects. We specialize in building scalable websites that leverage our deep industry knowledge. Our proven SEO processes, mobile app development and social media programs deliver online success and extend your marketing reach.
Drive Growth and Accelerate Results with RH Blake
RH Blake has been a leading industrial marketing agency in Cleveland, OH for more than 30 years. With a combined knowledge of industrial marketing and the unique needs of this region, our level of expertise allows us to launch effective campaigns. RH Blake offers powerful marketing partnerships to businesses in Cleveland, providing unparalleled expertise that drives business growth and enhances your brand.
Ready to start a conversation with a leading industrial marketing agency in Cleveland, OH? Contact RH Blake at 216-5952400 or info@rhblake.com.