How to get more out of your existing industrial marketing blog posts
Written by Dan Konstantinovsky
Strategic Marketing, RH Blake



If you're like many industrial marketers, developing blog posts to drive inbound leads is a key part of your job. But let's face it, creating a meaningful blog post that resonates with your target audience takes a lot of time. In fact, twice as many marketers are now investing an average of 6+ hours on blog posts compared to just last year!
How to repurpose your blog posts into engaging industrial marketing content?
Only 29% of marketers systematically reuse and repurpose content – this is a huge opportunity for you to differentiate and generate more productive marketing results. If planned and executed correctly, your archived blog posts are a goldmine for future content development. There are several excellent ways to get more out of your blog posts including:
Free Download: 5 Key Steps to Developing a Digital Marketing Roadmap
A Must Have Digital Marketing Guide for Manufacturers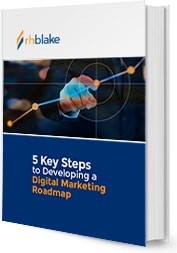 Group into a meaningful list
Review your blog posts, categorize them based on similar topics and develop a targeted list. Lists are a great way to compile information into an easily digestible format for your readers to engage with.
Develop a supporting infographic
90% of information that comes to the brain is visual and processes 60K times faster than text. Infographics are an excellent way to tell your story without having to gather new information.
Develop a supporting short-form video
Companies using video as a pillar of content development enjoy 41% more web traffic from search than non-users. Since you've already invested a significant amount of time in creating your blog content and getting it reviewed and approved, developing a short-form video is an excellent way to leverage your hard work.
Create a lead-generating product
Blog posts are an excellent source for not just driving inbound traffic but repurposing content into a lead generating ebook/tool. One way to do this is by grouping blog posts based on customer personas. For example, you could develop 'The Beginner's Guide to …", "The 5 Things Even Product X Experts Don't Know About', 'The Ultimate Guide to X for New Engineers', etc.
Improve SEO and conversion
Google's algorithm changes every couple of months. Thus, chances are, those blog posts you wrote last year or the year before are not aligned to the latest SEO and conversion best-practices. To help prioritize which blog posts need the most help, review your analytics to identify the blog posts that drive the most traffic but aren't converting into leads. Once identified, implement the latest conversion best-practices.
But don't stop there – once you've identified your most visited blog posts, leverage the keywords visitors used to find them and update other archived, relevant blog posts.
With producing engaging marketing content being the top challenge for B2B marketers (and for good reason as it's more difficult than ever to achieve desired results) leveraging existing content should be a critical, ongoing tactic for leading B2B marketers.