How Manufacturers Could Use Marketing Automation to Increase Customer Engagement and Sales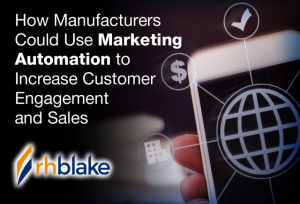 Written by Dan Konstantinovsky
Strategic Marketing, RH Blake


It's all about the numbers. The typical B2B buyer is nearly 60% through the purchase decision before engaging a supplier sales rep, at which point only one out of ten are ready-to-purchase. As for where the buyer's journey is taking place, 67% of it is done digitally. Even more challenging is another number—12%—the amount of the customer's total mindshare industrial marketers have across the entire B2B purchasing journey.
To win, leading manufacturers are creating data-driven marketing programs that leverage marketing technology to deliver personalized, intelligent content. The result? A growth in customer engagement, qualified leads and increased demand.
A marketing automation platform (MAP) can be used to create an automated, customer-driven trail from the initial contact to final purchase, linking your marketing programs to your customer relationship management (CRM) technology. It's efficient and effective, according to research conducted by the Aberdeen Group, noting that firms that use marketing automation improve lead conversions 107% and have a 40% greater average deal size of 40%.
Marketing automation also provides industrial manufacturers with a cost-effective and agile way to keep their distributors updated—and an engaged distributor is a powerful sales partner.
In short, marketing automation takes those activities that were once done manually—customer segmentation, customer data integration and campaign management—and automates them. Here are three key ways that marketing technology is helping manufacturers create a more effective, ROI-driven marketing program and some common roadblocks to a successful implementation.
Using Marketing Automation to Provide Manufacturing Customers Personalized, Relevant Information
If a manufacturing buyer is searching on Google for sources of industrial fans, for example, and visits your fan page, you don't want to lose the momentum and engagement generated at that initial touchpoint if they leave without engaging further. By employing a marketing automation solution, you can plan for that buyer to automatically receive a follow-up email with fan-related information such as a specifications list, buying guide or relevant case study.
Create a More Efficient Manufacturing Lead Nurturing Process
How would you like your sales teams to spend their valuable time: cultivating leads that are still in the very early stages of the sales cycle or contacting qualified leads who are more likely to convert? Winning manufacturers use an automated process that intelligently identifies qualified leads based on a predetermined criteria and sends them to Sales at the most appropriate times. For example, if your Sales and Marketing teams have agreed that a prospect who downloads a case study and then visits the Contact us page is a qualified lead, this information would be immediately communicated to Sales. Arming your sales team with insight into what webpages a customer visited and which digital assets they engaged with often helps them understand more about what kind of challenge the customer may be faced with and be more prepared to add value in the initial conversation.
Marketing Automation Allows Manufacturers Additional Visibility into the Sales Pipeline
It's not enough to separate the marketing qualified leads from sales qualified leads. You also want a way to track marketing qualified leads as they move through the pipeline on their way to becoming sales qualified leads and then customers. A robust marketing automation program can do just that.
For example, you can distill a conversion percentage based on A/B testing of various marketing approaches. Another benefit the system provides is the ability to update the data you have already accumulated, enabling you to refine your marketing approaches to better meet your market's needs, goals and interests.
Marketing Automation Enables Smarter Manufacturer Marketing
In short, by implementing an all-in-one marketing automation platform, you can have access to a comprehensive overview of your prospects and current customers, and develop targeted strategies to increase conversion. Once your organization understands how to use the tool, the benefits can be dramatic.
Interested in Learning More? Apply for a Manufacturing Marketing Strategy Consultation
Free Download: 5 Key Steps to Developing a Digital Marketing Roadmap
A Must Have Digital Marketing Guide for Manufacturers