RH Blake Selected to Speak at CRM Magazine's Marketing Technology Boot Camp
Leading B2B and Manufacturing-Focused Marketing Agency Selected to Present at CRM Magazine's Marketing Technology Boot Camp, 'How to Effectively Reach & Engage C-Level Prospects'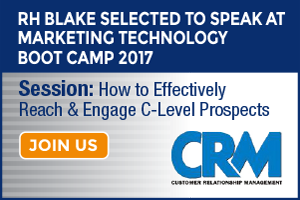 Written by Dan Konstantinovsky
Strategic Marketing, RH Blake


RH Blake's Dan Konstantinovsky has been selected to present at CRM Magazine's Marketing Technology Boot Camp on the topic: 'How to Effectively Reach & Engage C-Level Prospects.'
CRM Magazine's Marketing Technology Boot Camp provides practical information and teaches skills that hands-on digital marketers can put into practice as soon as they return to their offices.
This Boot Camp will cater to marketers wishing to sharpen their expertise, broaden their knowledge, and learn the latest best practices in applied digital marketing.
Co-located with the Gilbane Digital Content Conference, the Marketing Technology Boot Camp offers sessions to enhance practical skill sets for modern marketers and offers a wide range of digital marketing topics.
"I'm flattered to have been selected to present at CRM Magazine's Marketing Technology Boot Camp," said Dan Konstantinovsky. "As a leading B2B and manufacturing-focused marketing agency, RH Blake has a strong passion for helping B2B marketers better understand how to meaningfully reach and engage the C-suite."
Presentation Overview:
DATE/TIME: Tuesday, November 28: 11:45 a.m. – 12:45 p.m.
SESSION TOPIC: How to Effectively Reach & Engage C-Level Prospects
Want to receive a copy of the presentation that we'll be delivering? Just let us know.