RH Blake Selected to Speak at National Precast Concrete Association's (NPCA) The Precast Show
Leading Industrial and Manufacturing-Focused Marketing Agency Selected to Present at The Precast Show 2018, 'How to Build a Successful Digital Marketing Roadmap'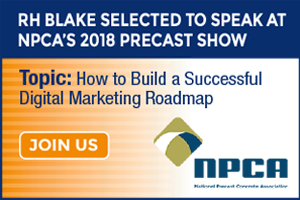 Written by Dan Konstantinovsky
Strategic Marketing, RH Blake



RH Blake's Dan Konstantinovsky has been selected to present at The Precast Show 2018 on the topic: 'How to Build a Successful Digital Marketing Roadmap.'
The Precast Show is the largest precast-specific trade show in North America and the one place where you can find the industry's most important suppliers and foremost equipment experts under one roof. The annual event will take place Feb. 22-24, 2018, in Denver, Colo., at the Colorado Convention Center and will include thousands of attendees and exhibitors.
"It's a great honor to have been selected to present at The Precast Show," said Dan Konstantinovsky. "As an industrial and manufacturing-focused marketing agency, RH Blake has a deep passion for helping precast-focused firms better understand how to successfully create and execute digital marketing strategies."
Presentation Overview:
DATE: February 24th, 2018
PRESENTATION TITLE: "5 Key Steps Every Precast Concrete Manufacturer Can Take to Build a Successful Digital Marketing Roadmap"
For more information on The Precast Show 2018, visit https://precast.org/theprecastshow/
Want to receive a copy of the presentation that we'll be delivering? Just let us know.
Free Download: 5 Key Steps to Developing a Digital Marketing Roadmap
A Must Have Digital Marketing Guide for Manufacturers