How to Leverage Industrial Consulting to Market B2B Industrial Products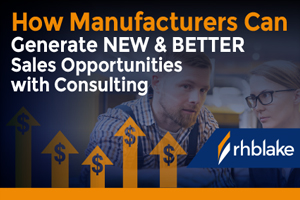 Written by Dan Konstantinovsky
Strategic Marketing, RH Blake


If you're focused on marketing complex B2B industrial offerings, you uniquely understand that many sales opportunities and projects are non-linear, may not be clearly defined and vary in their complexity.
And as a result, you've most likely heard your Sales team mention they'd win more business if they could only get into the customer's journey earlier and have the opportunity to better frame your value proposition.
But as an industrial marketer, this is easier said than done considering prospects are completing the majority of the buying journey without contacting a supplier. One approach to getting into the customers' buying journey earlier for many leading manufacturers – and the answer may surprise you – is offering complimentary Consulting.
By offering pertinent Consulting and expertise to a client or prospect, not only are you engaging in the opportunity earlier, you're enabling customers to get a better sense of your knowledge and level of thinking while benefiting from the recommendations your consulting offering provides.
The 3-step Solution to Offering Complimentary Industrial Consulting
Identify your industrial consulting offering One of the best ways to identify the type of Consulting services you should consider offering is to look at the types of questions customers and prospects ask you early in their journey. For example, are you helping customers identify the severity of their issue, confirm and prioritize their needs or navigate different approaches to solving a problem? Each of these could be pathways to consider when forming your consulting offering.
Position and productize Once you've identified the types of problems your consulting offering can solve, consider how you're going to position the offering and productize the offering. This includes identifying the exact scope of the consulting offering and deliverables, pricing and identifying and prioritizing the target market.Once these considerations have been addressed, productize the consulting offering as if it were a product. For example, when you go to a retail store and see a box of cereal, you immediately see:

Front cover of the box with perhaps a meaningful name and branding
On the back cover you may see ingredients and nutritional information
Perhaps on one of the other sides you may see happy customers (testimonials)
And a price

Your industrial consulting offering should include many of these same characteristics:

Name
Background and description of desired business outcomes
Service scope (ingredients)
Service outcome (nutritional value)
Testimonials
Price

Looking for an example? Check out the Parts Fingerprint offering by ABB­ which is designed to help their customers better understand their parts inventory management opportunities for improvement. Which in turn may lead to incremental opportunities for other parts of ABB's portfolio.


Market your consulting product Integrate your new offering into your portfolio as you would any other product. Consider leveraging it as a lead generator with prospects and as a potential value-add to existing customers. Whether you market it with Account Based Marketing, on Linkedin or as a call-to-action following your sales calls, having a new way to add value to customers will help you gain deeper relationships and a new revenue stream.
Summary
If you know who your target customers are for your key product offerings and don't want to wait for them to contact you on their timeline, consider developing a complimentary consulting offering and reaching out to them proactively. You'll demonstrate your thought leadership, reduce perceived risk of working with you and help guide the conversation in a framework that's most effective for your business.
So what now?
Need help with creating and marketing a consulting offering for your manufacturing or industrial business? Contact us at info@rhblake.com.