Gritty Marketing Strategy
Demonstrates Manufacturing
Technology Company Isn't Afraid to
Get Hands Dirty to Fuel Growth
Trusted Technology Integrator and Implementation Expert
MCA Connect has been known as a trusted Microsoft technology integrator, an expert in providing transformational solutions and superior technology integration experiences to manufacturers. To facilitate growth, the company decided to develop a stronger focus on complex manufacturing and shift to a strategic advisory role.
Transition Perception from Implementor to Thought Leader
For more than two decades, our client has been successfully implementing enterprise resource planning technology for manufacturers. To enhance customer value, they saw an opportunity to also offer strategic consultative services, which focused on driving operational improvements beyond just technology.
MCA Connect was challenged with evolving their marketing messaging to focus on two audiences:
Discrete manufacturers
Microsoft stakeholders
To grow mindshare, our client needed to create deeper, broader awareness within the two target audiences. They needed to build a credible messaging bridge that connected what they had been known for with what they wanted to be known for. The new positioning needed to reflect their logical evolution within the market.
Of course, entering a new space as a consultant is a challenge. But then there are additional challenges involved in repositioning against companies with significantly larger resources and well-established consultants and advisors. Therefore, it's important to create positioning that leverages key differentiators as competitive advantages.
Honest, Direct Messaging and Dark, Gritty Visuals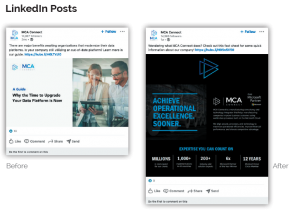 MCA Connect chose to work with RH Blake because of our manufacturing expertise and specialization, which would help them develop the messaging and visuals needed to connect with complex manufacturing businesses.
Insights Uncovered by Internal Research and Workshop
During the discovery phase, we interviewed both internal customers and Microsoft stakeholders to achieve a clear understanding of how MCA Connect was perceived and how that perception compared with alternatives. This would help identify opportunities for growth.
After completing our research, we held an internal workshop with our client's leadership team. During the workshop, we shared highlights from our research and discussed common trends and threads in the market. Then, we worked with the leadership team to gain a better understanding of where they wanted to take the business from a marketing standpoint and how they wanted to be viewed by the market moving forward.
Refined Messaging and Visuals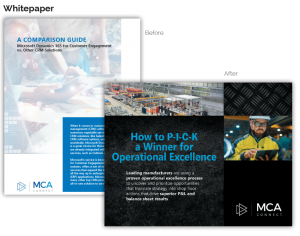 Based on the input from the workshop, we created a messaging framework for each of their target audiences. Within this framework, we built pillar messaging themes with proof points for each theme. For example, it may be easy to claim that a product or service is reliable along with multiple competitors who make the same claim. Therefore, each pillar needed credible, unique proof points to back up each claim. Then, we provided recommendations for go-to market strategies, outlining marketing initiatives that would help grow their business.
As part of the repositioning initiative, we updated the messaging and copy for MCA Connect's website and marketing materials to reflect the company's honest, forthright approach. From a visual perspective, we also refined the look and feel of the business, which we outlined in a new brand guide.
Our client's branding used to include a lot of white space, making it appear very focused on Microsoft technology instead of manufacturing. We refined the branding to include several dark visuals and a gritty manufacturing message to remind customers that they're not afraid to get their hands dirty. Now, it not only speaks to manufacturers but it speaks like them — an essential catalyst for fueling new partnerships and growth.
Market Differentiators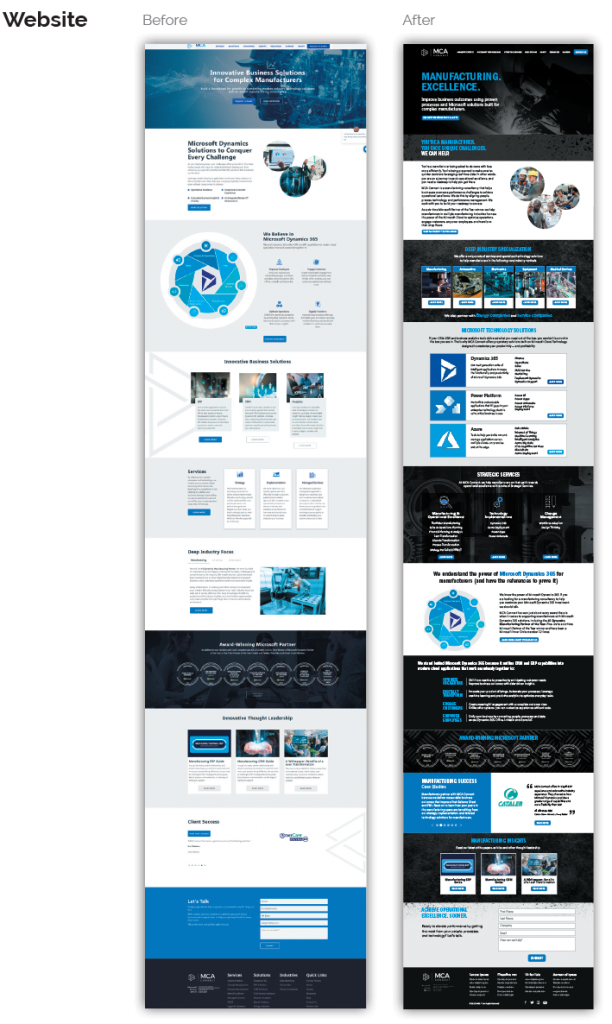 How was a strong manufacturing message key to highlighting our client's competitive advantage? Their  competitors work with multiple verticals and only focus on manufacturing part of the time. In contrast, MCA Connect focuses on manufacturing exclusively. We made sure to communicate that the people selling the solutions are the same ones doing the work at the manufacturing facilities.
The new branding also features MCA Connect's relationship-driven approach to problem solving, another key differentiator within the market. The messaging focuses on their unique ability to connect with manufacturers by listening and digging deep into their business until they understand it intimately. Coupled with their technical expertise, MCA Connect's consultative approach helps clients connect to success by optimizing processes and enabling advanced technologies.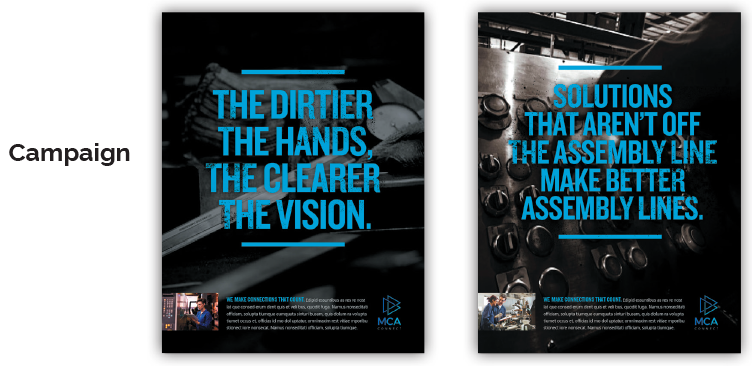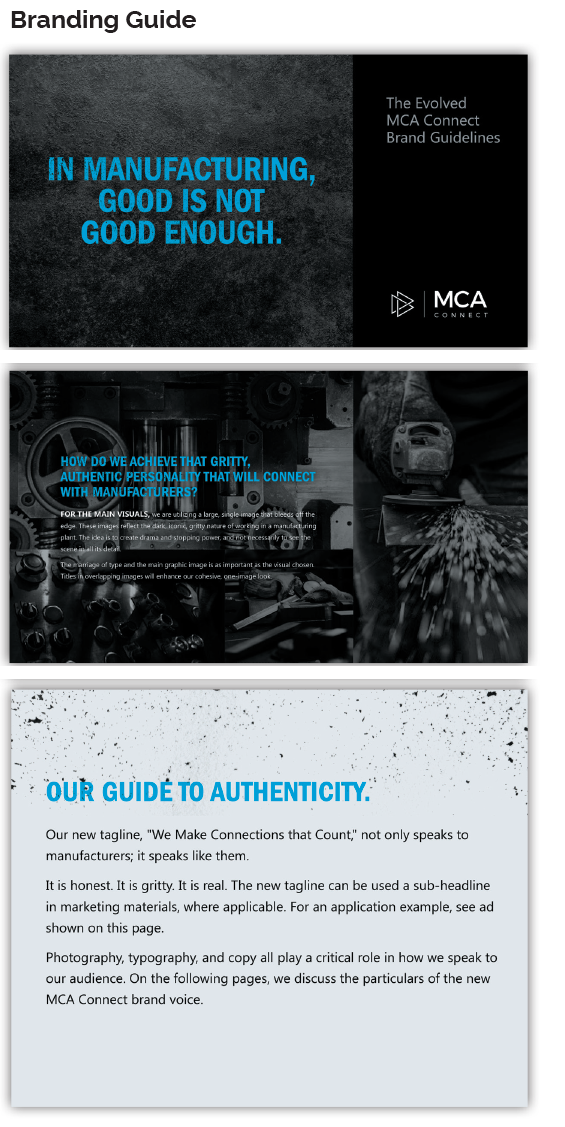 Leveraging Evolved Brand for Product Launches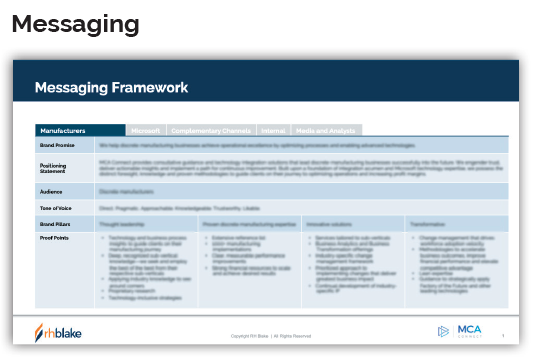 We're now helping MCA Connect with product launches, leveraging the new marketing messaging and visuals. For each product, we're creating the messaging for product launches, content and value propositioning that targets both complex manufacturers and Microsoft stakeholders.We were the best partner for MCA Connect because we uniquely understand the complexity of the manufacturing audience and how to speak their language.
This project showcases our ability to help B2B technology companies who are targeting manufacturers as well as manufacturers who sell directly to customers. Our team is ready to help a variety of clients realize their potential for growth as we guide them through the full project lifecycle.
Examples of Assets with New Positioning