Marketing for Manufacturers – 20 Customer Insights to Fuel Your Growth Strategy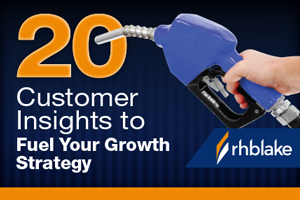 As industrial and manufacturing marketers, we all understand the value of customer research. It can help us enhance our product launches, better position sales approaches and capture feedback on marketing activities.
But, too often, we look at customer research as a singular activity; something we do, at most, once per year and many times is just a part of our annual ISO certification program.
Yes, Net Promoter Scores are important and sending out a survey to see where you can improve is good, but these activities are now table stakes.
After decades of industrial marketing experience, we continue to see a pattern unfold – manufacturers who view customer research as a strategic component of their marketing programs – one that is critical to fueling growth – are the ones that are most successful.
"If the rate of change on the outside exceeds the rate of change on the inside, the end is near." – Jack Welch.
This is one of my favorite quotes and nowhere is it more applicable than with customers today. Your customers are changing at an increasing rate (just think about your business). Their buying process, their business model, their competitors, their expectations…all are changing more quickly than ever before. If you're not in tune with how your customers are evolving and your business isn't aligning with these changes, then, as Jack put it, you're closer to the end than you may think.
Marketing for Manufacturers – 20 Customer Insights to Fuel Your Growth Strategy
In our experience, the manufacturing and industrial firms that are consistently outperforming their competitors are the ones that also have a structured customer research program in place. The program doesn't have to be overly complicated or expensive; just a consistent process in place to ensure you're reaching out to the right audience, at a regular frequency, to uncover insights that may help grow your business.
Your customer research program should be like any other marketing activity; budgeted, evaluated and refined. In our experience, industrial and manufacturing firms that have a deep understanding of their customers' businesses are investing at least 10% of their overall marketing budget toward capturing these insights.
What's the ROI of Customer Research for Manufacturers?
This question reminds me of a similar question: "What's the ROI of a basketball?" The answer – for many – is zero. But for an NBA player, it's millions. The point being is that capturing the insights isn't enough; what you do with them is what makes the difference. Here are 20 ways you could consider using customer research and insights to grow your business:
Uncover your value proposition and differentiators as perceived by your customers.
Discover which benefits or services your clients appreciate most, and why.
If selling through distribution, identify best practices your distributors see from other manufacturers.
Identify which business challenges your customers are facing. These should be transformational in nature; not directly tied to your business.
Check your marketing messages to see how well they align with what your customers really want to know.
---
Identify how well your salespeople or channel partners are educating end users.
Find out what your customers think about your company.
Uncover your direct and indirect (including internal) competitors.
Better understand how, why and when your customers make specification and buying decisions.
Identify what your customers expect from your products and your company.
---
Capture the top reasons why a customer or prospect decided not to move forward with a purchase.
Prioritize which weaknesses you need to fix right away.
Learn how well known your brand is in the marketplace.
Explore why some customers chose to buy from a competitor.
Get a deeper understanding of how important your initial price is and how your pricing compares to the competition.
---
Identify opportunities for a new product or service or related offering (e.g., training program).
Determine what issues you should be writing and speaking about to engage your audience and build your visibility.
Learn how your customers find you.
Uncover ways you can make your business "stickier" or more valuable and harder to displace.
Discover the one thing your customers would change about your business
We have found that customer and prospect research can offer significant insights for businesses and provide the roadmap for how to market their offerings. Furthermore, for many manufacturers there's an inertia against doing something different. This type of research presents demonstrable proof to help support a new direction or cause.
Oh, and there's one more benefit. When done right, your customers appreciate it! They are tired of filling out online surveys or ranking items 1-5, Providing the opportunity to have a meaningful conversation about them and their business reaffirms you care about them, not just their PO.
Create a more successful industrial marketing program