17 Can't Miss B2B Lead Generation Website Ideas for Manufacturers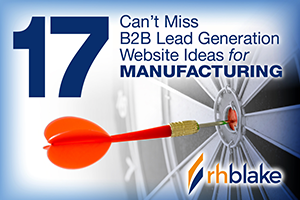 Written by Dan Konstantinovsky
Strategic Marketing, RH Blake



According to DemandWave's "State of B2B Digital Marketing" report, generating quality sales leads is the number one priority for B2B and manufacturing marketers. And as additional reinforcement that lead generation is critical, according to Content Marketing Institute's recent report, driving more leads is ranked as the number one content marketing goal for B2B and manufacturing marketing leaders for the next 12 months.
Identifying effective B2B website lead generation ideas for manufacturers is challenging
As a B2B or manufacturing marketing leader, creating website content that converts quality leads can be more challenging than in the B2C space where you can simply show a pop-up that screams "20% off" for the next 24 hours. We must be creative, knowledgeable and insightful when developing lead generation tactics that convert website visitors into qualified leads.
Here are 17 B2B lead generation website ideas every manufacturer and B2B firm should consider using in their marketing program and website
To help you get your lead generation juices flowing, we've compiled a list of 17 B2B lead generation ideas and best practices that you could consider implementing on your website. As with any piece of content, what you offer needs to be relevant to your target audience and provide enough value to evoke meaningful action.
1. Request a quote
One of the most common calls-to-action on manufacturing and B2B websites, but also one of the most incorrectly developed. The main culprit is asking for non-critical information – research shows that anything more than 3 fields causes a significant drop-off in completions. Another frequent error is not having enough white space – the moment a user gets overwhelmed or confused is the moment you've lost a qualified opportunity. To get a better sense of how visitors interact with your website, consider installing a tool like Hotjar.
2. Pop-up/Expert video chat
One of your most valuable resources are your engineers – why not offer your website visitors a chance to ask them a direct question? An excellent tool (and offers a free option) for this is Drift.
3. Ebook/Guide/Whitepaper
Once a visitor has landed on a particular page, offering them a related ebook, guide or whitepaper is an excellent way to move them further along in the sales cycle and convert them into a lead. The key to increasing the effectiveness of this tactic is providing content that's extremely relevant to the audience. For example, if your landing page is focused on issues that impact a VP of Operations, consider offering an ebook that also focuses on this title e.g., 'Here's what we've learned after implementing 1000 ERP installations: A must-have guide for the VP of Operations'.
4. Catalog
If you're manufacturer that sells standard products, offering a catalog that includes relevant lead generation magnets is an excellent way to draw additional attention to lead generating content.
5. Webinar
Webinars are an excellent way to demonstrate your thought leadership while driving brand awareness and leads. Is there an industry regulation change approaching? Perhaps your engineers recently solved a reoccurring issue? Is there an opportunity to partner with an industry thought leader or relevant association in delivering this presentation? Once you've identified a meaningful topic, promote the webinar event across channels that your prospects access as this will also help enhance brand awareness. Another benefit to webinars is SEO as you'll be able to transcribe the webinar text and couple if with any content.
6. Valuable directory/resource (search function)
Do you offer a research function on your website? This could be a great opportunity to consider gating this content. For example, limit the number of times users can use your tool per day/week or return limited search results until users provide their contact information.
7. Independent research
Edelman's recent survey of more than 1,300 U.S. business decision-makers determined that 63% feel that thought leadership is a great way to get a sense of the caliber of thinking an organization is likely to provide, and nearly half feel that thought leadership has directly led them to decide whether to do business with a company. Independent research is an excellent way to develop and highlight your thought leadership in a specific space.
8. State of the Industry report
Develop content and partner with an association or complementary brand to publish the definitive report for your industry. Although this tactic can take a significant time to develop, it's one of the most effective approaches we've seen to drive leads and help position your brand as an industry thought leader.
9. ROI/Comparison tools
B2B and manufacturing firms typically offer products and solutions that have longer sales cycles and relatively high initial price tags compared to many consumer purchases. As a result, the lifetime value of your offering is typically where you'd like to focus your discussion. Consider adding a gated ROI tool to your website. In addition to driving leads, this will help you defend your price, accelerate your sales cycle and increase your average selling price. One excellent source for this is ROI Selling.
10. RFP/Buying Guide
Help your prospects make a more informed decision by creating an RFP template or buying guide they can use in their purchasing process. This is a great opportunity for you to highlight all of the items your customer should consider when purchasing your solution that impact their business.
Almost there – 7 More B2B lead generation website ideas every manufacturer and B2B firm should consider
11. User-friendly explanation of an upcoming industry regulation change
Nearly every industry has new regulations that have varying degrees of impact. Unfortunately, not every industry has an intuitive resource to help companies navigate how this regulation impacts them – this is a great opportunity for you to create something valuable for your audience.
12. Create educational videos that help existing customers and prospects solve a challenge
43% of people skim blog posts and articles. And this percentage will continue to grow as we're multitasking more and our attention is increasingly divided. Short-form videos have higher engagement rates, are recalled more and are difficult for your competitors to duplicate. Consider creating a series of related videos – some gated and others not.
13. Demonstrate what's working for you
If you're a manufacturer, chances are you may be selling to other manufactures who may be experiencing similar operational and growth challenges as you are. Consider communicating how you were able to solve an internal challenge that helped improve your safety, margins or culture.
14. Create a useful spreadsheet
Many times when onboarding a customer or providing customer support, B2B firms and manufacturers create one-time spreadsheets or tools to help solve an immediate need. One idea to generate leads is to examine how you can leverage these spreadsheets for your other customers and prospects, then package and market them appropriately.
15. Create a process chart/infographic that simplifies a process
Similar to creating a summary of an industry regulation change, is there information your customers could better benefit from if it was in a chart or infographic format? Perhaps this is something your customers could share internally to support their role or objectives as they relate to your offering?
16. Create a training course
If you've executed several of the activities on this list, you could have numerous videos, ebooks, guides and tools that when combined, are an opportunity for a powerful training course for your prospects and customers.
17. Assessment
When qualifying a prospect, do your salespeople tend to ask similar questions that help determine what level of value your offering will provide? Consider marketing these questions as an assessment tool on your website.
Implementing the right website lead generation ideas on your manufacturing-focused website is critical
Successfully implementing the right B2B lead generation website ideas will help reduce average cost-per-lead for manufacturers and other B2B industries. According to HubSpot's "Demand Generation Benchmarks Report", 'Industrial & Manufacturing' has the fourth highest cost per lead. The complete breakdown:
IT & Services: $369.88
Healthcare & Medical: $285.82
Financial Services: $271.54
Industrial & Manufacturing: $235.09
Media & Publishing: $191.07
Consumer Products: $182.37
Marketing Agencies: $172.72
Education: $65.69
Nonprofit: $43.36
As a B2B manufacturing marketer, you're constantly being asked to drive more leads while maintaining or reducing expenses. Identifying the right lead generation ideas can make a significant impact on the ROI of your marketing program. Hopefully the above list will help you consider how else you can couple content with your website to drive qualified leads.
Free Download: 5 Key Steps to Developing a Digital Marketing Roadmap
A Must Have Digital Marketing Guide for Manufacturers