How B2B Manufacturing and Technically-Oriented Firms Can Leverage FAQ's in Their Content Marketing Programs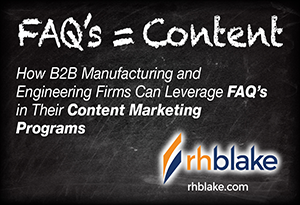 Written by Dan Konstantinovsky
Strategic Marketing, RH Blake



Leading B2B marketers recognize that having a consistent and meaningful content marketing program is critical to driving inbound demand generation and communicating thought leadership. But if it's so important, why are so many B2B firms and manufacturers struggling to do it successfully? In fact, only 34% of B2B firms claim to have an effective content marketing program.
One key reason our marketing agency comes across is that identifying new and effective topics becomes more challenging as the content program progresses. All too often, B2B firms run out of material after only a few months – 49% of B2B marketers attributed their content development stagnancy to content creation challenges – and once the content marketing program loses momentum, getting it back and allocating necessary resources is even more challenging than before.
B2B Content Marketing Tips for Manufacturing and Engineering Firms
One way to help ensure your content development program stays on course and keeps momentum is by developing a robust FAQ page. That's right! A page that's often overlooked in website planning can be the difference between a successful content marketing program and one that loses momentum and fails.
Many B2B firms already have an FAQ page but typically it includes items like who to contact for emergency service, sales territories, credit terms, shipping restrictions, industry certifications, or minimum order requirements. But an effective FAQ section shouldn't just be quick answers to logistics-related post-purchase questions; it can be a section devoted to value-added information including:
General offering overview – e.g., 'What is rollforming?'or 'What is an Asset Management System?'
Product details and dimensions – are there certain product questions that keep coming up?
Industry applications – what questions do customers ask about your offerings in their specific industries?
Best practices – do customers ask how to apply your offerings for their application?
Installation and service – What typical questions are asked during and after installation?
Competitor comparison – How does your offering compare to a competitor or to doing nothing?
Company history and future direction – communicating your company overview including culture and community involvement can be a differentiator in your customers' eyes
Engineering expertise – How is your engineering team uniquely better at solving specific problems
Production expertise – what materials or configurations do you use to solve known applications issues?
Quality system – do customers ask about your quality program?
In-house capabilities / Outsourcing – exactly who will do what is an issue many customers want to understand
Level of distributor/partner support
Typical ROI/payback
And many more
How B2B Manufacturing and Engineering Firms Can Create Ongoing Content
I'm guessing you're thinking the following: Sounds like it can be a good idea but who's going to capture all this information and convert it into meaningful content on an ongoing basis? The answer to this is different based on organizational needs – but for many B2B firms, establishing a content development team that includes different functions and meets at a regular interval can be one approach. If you ask each member of the team to write down every single customer-facing question they hear on a daily basis, by the end of the month you'll have more content ideas than you'll know what to do with. And if you don't generate a wealth of ideas, consider researching associations in your space to see what kinds of FAQ information they already offer to get a sense of what your customers may benefit from.
Once you've identified interesting FAQ-related content ideas, there are several ways to leverage this new content:
Utilize it across your entire marketing program including social media, newsletters, targeted videos, outbound lead-generation emails and blog posts. And don't forget to repurpose each FAQ into different formats as well – such as video or infographics.
Drive organic rankings. Another advantage of having a great FAQ page is because the content is extremely focused on one specific topic, it will almost self-optimize for that keyword phrase and help improve organic rankings.
Create a lead-magnet that supports relevant FAQs. Is there a tool, template or document you can create to help someone overcome or be better informed regarding an FAQ? If so, this would be an excellent opportunity to drive leads.
Successful content development is challenging for most B2B manufacturing and engineering firms – especially those that sell highly technical products or services and have limited marketing resources. Better leveraging your internal resources for content development ideas and converting them into a robust FAQ section is an excellent way to overcome your limitations.
Free Download: 5 Key Steps to Developing a Digital Marketing Roadmap
A Must Have Digital Marketing Guide for Manufacturers