Digital Marketing for Manufacturers: 5 Insights You Can't Ignore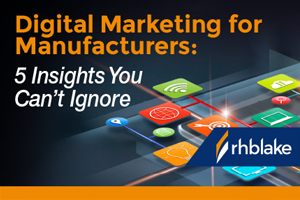 Written by Dan Konstantinovsky
Strategic Marketing, RH Blake


One thing manufacturing marketers can agree on is the quickly changing landscape of digital marketing. As industrial buyers increasingly turn online for help with identifying and selecting quality suppliers, there are new challenges and opportunities for industrial and manufacturing brands. Below are are five digital marketing insights that every industrial marketer should take note of and meaningfully address if they want their organization to stay competitive in this changing landscape.
1. The Industrial Buying Process Is Longer
The sales cycle continues to grow longer and more complex. The buying team is more sophisticated and the process of demonstrating your value to them to complete a sale is more involved. This means navigating multiple opinions, priorities and goals. You need to address them all. This is made even more challenging by the fact that you may not clearly know all of the people involved in the purchasing decision and what they view as most important.
Additionally, the role of distributors and channel partners is being threatened. While word of mouth used to be the main driver of manufacturing purchases, in certain instances decision makers are now trusting Google just as much as, if not more than, their distributor suppliers. Potential customers are spending more time and using more sources to research a purchase. For certain offerings, buyers are even arriving at their purchasing decision before reaching out to the supplier.
While this obviously makes things more difficult for sales – your word is no longer enough – it also opens your company up to new customers that can find you online. It is more important than ever to provide high quality content online to help customers determine whether your company is the right choice. And it is essential that marketing be actively engaged in the sales cycle.
Furthermore, to keep your company top of mind as buyers move through their buying quest, you need to make sure your information is easy to find online – that includes through Search Engine Optimization (SEO), digital advertising and a strong brand with clear thought leadership.
2. SEO for Manufacturers Is Changing
If you want buyers to include you in their research for a partner, you need to reach them through search and send them to your website. That's not as easy as it sounds, especially now. Social networks and even Google are no longer sending as much traffic to your website.
Social media used to be an ideal way to increase traffic to your website. However, with Facebook and LinkedIn and other network algorithms prioritizing their content to keep users on their networks, social media is no longer a surefire way to increase traffic to your website. In fact, Facebook referral traffic has become nonexistent for many organizations.
While the decline of social referral traffic is disappointing to most brands, even more detrimental is the fact that Google is now sending less organic traffic to your website as well. Google is increasingly answering more search queries without clicks. Instead, you see a featured snippet at the top of the search results. These snippets are extracted from a website, so users can see the answer to their search query without actually going to the site. You may have noticed this if you Google your organization's name and see your phone number, address and reviews appear without having to click anything. The same is often true if you ask a question. Featured snippets tend to come from big brands or sites like Wikipedia.
So what can you do? Understand that brand searches are more important than ever and focus on building your brand. Google gives preference to known brands and people are more likely to click on a site they recognize in search results. Compare your website and online presence to your competitors' to evaluate your strengths and weaknesses. Also, it's more important than ever to make sure your website is mobile friendly. Google has moved to mobile-first indexing, meaning it uses the mobile version of your site for indexing and ranking. If your site isn't mobile friendly, it won't see much traffic from Google.
The good news is that the work you do to improve your organic search traffic will also help improve the ROI of your digital advertising.
Looking for effective industrial marketing strategies?
Apply for a custom strategy session with our experts. (This is a complimentary offer – no strings attached.)
3. Digital Advertising Costs for Manufacturers Are on the Rise 
As more companies shift their advertising and marketing budgets to digital, digital advertising becomes increasingly expensive. Paid search, through Google or another search engine, is one of the most popular types of advertising for manufacturers. As Google Adwords proves effective for many manufacturers, the competition for attention grows. You and your competitors are bidding on the same keywords to reach potential customers, driving the cost of paid search higher.
The same is true for social advertising. LinkedIn is an effective B2B lead generator for many industrial marketers, but it doesn't come cheap. And as online ad costs rise, the ability to prove ROI becomes more difficult.
That's not to say that manufacturers should abandon online advertising – but it does mean you may need to shift your approach to it. Bidding on broad industry keywords isn't going to produce the same results for the same budget. Get to know your customers and create a digital advertising strategy tailored to them.
4. Branding and Content Marketing for Manufacturers Is More Important Than Ever
Does your company have strong brand recognition? Your brand is how your customers and potential customers perceive your organization. A logo and color scheme is not enough. To stand out from the competition, your company needs to have a differentiated brand message and value proposition. Your brand needs to be consistently communicated across all media – both on and offline. Your brand includes everything from your logo to your website, social networks, newsletter, signage and corporate office. It is the entire customer experience.
Brand consistency across all media conveys to your audience that yours is a brand they can trust. Trust is essential when it comes to making large purchasing decisions. It will also make your company stand out in customers' minds over your competition. A strong, consistent brand allows small and mid-market firms the opportunity to compete with larger firms.
Developing thought leadership content is an excellent way to demonstrate your expertise and value, and enhance your brand recognition. Manufacturers that create a thought leadership-focused content marketing program will continue to win. Your content needs to go beyond just your brand; you need to be strategic and answer how you can solve buyers' problems and address pain points. Your content needs to be high quality, visual and should speak directly to buyers' needs, so it is important that you have a comprehensive understanding of who your buyers are and what explicitly they are looking for.
5. Opportunities for More Effective Measurement and Reporting
The amount of data created from all of the above activities is substantial. So while this large amount of real time data may be helpful, the typical industrial and manufacturing marketer has found organizing, understanding and acting on this data to be a challenge.
Company leadership is understandably focused on ROI. It's not enough to produce leads; Marketing, in many instances, is now partly responsible for revenue generation, and marketing decisions need to be based on data. Consequently, industrial marketers tend to be focused on short-term product-oriented marketing rather than long-term brand marketing. Today's industrial marketers need to find the right balance between short wins and long term success.
Additionally, the number of marketing technologies available is vast. With so many options with multiple features at various price points, it's difficult to find the right mix or stack for your business. Yet if you don't have the right tools, your effectiveness may suffer. And if you are like many industrial marketers, you don't have a large marketing team, so it's essential to make the smartest decision possible. You can't waste time or money.
Furthermore, marketing responsibilities have changed drastically in the last several years, and today's industrial marketer needs to be both strategic and tactical. It's also important that marketers have a broad understanding of both marketing and business. Taken together, it's hard to find the perfect person to fill that role. That's where training comes in. In order to ensure you are making the most of the data available with the team you have, you need to have a training plan in place for your marketing team. Identify the gaps in your team and then train according.
The change in the digital marketing landscape and the changing role of marketing in general presents both challenges and opportunities for industrial and manufacturing marketers. Those who are able to create a winning SEO and digital advertising strategy, build a strong brand and thought leadership program, and use data to continue to modify their manufacturing marketing strategy will succeed in this changing marketplace.